THEOPHILOS AUDIO BIBLE CD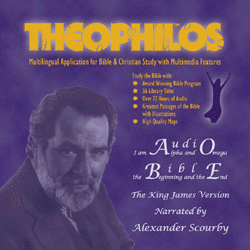 In cooperation with Audio Bible we have released Theophilos Audio Bible CD - a new product with Theophilos and narration by Alexander Scourby. For many years has been Alexander Scourby known as the "Voice of the Bible". His famous Bible narration has been making a difference in lives of many millions of people all over the world.
On a single CD you will be able to listen to over 72 hours of dramatic reading of the entire King James Version of the Bible. Theophilos will let you listen to the Word of God while you work without interfering with other Windows applications. Or just use it to learn to pronounce any Bible word and listen to any verse instantly.
Theophilos is a full featured Bible study software program and with the addition of Alexander Scourby's narration you won't find a better value. So why not start enjoying this exceptional combination of today's computer technology and treasured American classic today.

CONTENTS
Theophilos Bible Software version 2.6 (upgradable to version 3)
Entire KJV Bible narrated by Alexander Scourby
Illustrations and maps
Scribe for Theophilos (evaluation version)
Special scripts for Jaws for Windows screen reading software
Split it! file splitting utility
Free package that you can give to your friends
Localized menus and dialogs in english, german, italian, spanish, portuguese, dutch, slovak, czech, hungarian, russian and romanian
BIBLES:
American Standard Version
Apocrypha
Bible in Basic English
Darby's Version
King James Version
King James Version 2000 with Strong's Numbers
Reina Valera 1909 (spanish)
Stephanus Textus Receptus
Webster Bible 1833
Weymouth New Testament
Young's Literal Translation
DICTIONARIES:
Condensed Biblical Cyclopedia
Easton's Bible Dictionary
Harriet N. Cook: Scripture Alphabet of Animals
Hitchcock's Bible Names Dictionary
Nave's Topical Bible
Strong's Greek and Hebrew-Aramaic Dictionary (Revised)
Thompson's Chain Topics
Torrey's Topical Textbook
COMMENTARIES:
Geneva Bible Notes
Jamieson, Faussett, Brown Commentary
King James Translators' Notes
Matthew Henry's Commentary
Treasury of Scripture Knowledge
Weymouth: Introductions to NT Books
WRITINGS:
A. W. Pink: The Antichrist
B. Pascal: Pensées
C. H. Spurgeon: Daily Readings
Creeds of Christian Faith
Daily Bible Reading
J. Calvin: Biblical Commentaries
Josephus: Against Apion
Josephus: Antiquities of the Jews
Josephus: Miscellaneous
Josephus: The Wars of the Jews
The Pilgrim's Progress
Read about system requirements for Theophilos
---
WORDS OF ALEXANDER SCOURBY: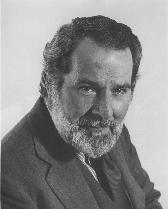 "I offer you the most rewarding gift you will ever have an opportunity to give someone you love... THE HOLY BIBLE... the world's most important book, and a gift of a lifetime for anyone to receive. Although I have narrated more than 500 books, I consider the Bible my most important work. Why? Because it is the one book that has the power to inspire, encourage, comfort and change the life of the person who hears it. I know this because during the many years since I narrated the bible, numerous people have written thanking me for creating such a beautiful reading. I have been greatly humbled and moved by the many letters I have received from people around the world telling me how God used the Bible narration to change their lives and the lives of their loved ones, encourage them in their hour of need, and even healed them as they listened to the Words of Life.
I am very honored that God chose me as an instrument to narrate his eternal Word. I am awed by the realization that after I transcend this earthly realm to the heavenly, this beautiful recording will still be here to comfort and encourage all who will listen. I am also proud that I recorded the King James Version. Although many other versions of the Bible have been written, the King James Version is my favorite. It is still recognized by Bible scholars and academics as the most accurate and most beautiful rendition ... and for the sheer beauty of the English Language the King James version has no equal. I know that you will love it."