THEOPHILOS LIBRARY CD Updated Edition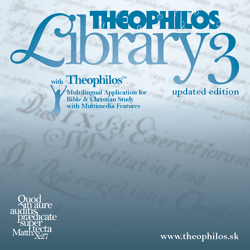 ORDER NOW FOR AS LOW AS $19.95

Theophilos Library CD 3 Updated Edition gives you a wealth of Bible study materials. Our Scholar CD gives you 43 Bibles and 57 reference titles—that's 100 book titles on a single CD. But we have also taken the time to make it much more then a library of books on CD-ROM. Our CDs are designed to satisfy all age groups from pre-school to adult. Whether you want to introduce your children to the Bible through multimedia Bible narrations with illustrations. Or your teenagers through quality Christian music performed by rock-star Kerry Livgren. Or if you want to plunge yourself into serious Bible study. It's all here on one CD. We believe this concept is quite revolutionary and we do it all giving you the highest quality at a reasonable price.
This updated edition of Theophilos Library CD 3 contains more than 40 updated or new materials. If you are an owner of any previous edition of Theophilos 2.x Library CD contact us for an upgrade price. If you ordered from us before, your name will be listed in our customer database. All your current unlocks will work with this CD.
Theophilos Library CD is available in three editions. As you will find, there are small differences in their content allowing you to choose exactly what you need.
* Each CD contains locked versions of all our commercial (i.e. non-free) titles. Titles marked "LOCKED" or "NO" can be unlocked for a small fee. To unlock a book on the CD, just purchase it here and receive the unlock code by email.
CLICK HERE FOR THEOPHILOS LIBRARY CD PREVIEW
CONTENTS

BASIC Edition
$19.95

STUDENT Edition
$49.95

SCHOLAR Edition
$69.95

New easy to use Theophilos CD Loader will help you choose which resources you want installed
Theophilos Bible Software version 3.1
Greatest Bible passages narrated by Stephen Jones
Illustrations and maps
Mark Copeland's Executable Outlines
Theophilus cartoons by Bob West
Music by Kerry Livgren in CD quality (10 songs)
Scribe for Theophilos (evaluation version)
Splitter Jack file splitting utility
Free package that you can give to your friends

Localized menus and dialogs in English, Afrikaans, Bulgarian, Catalan, Czech, Dutch, French, German, Hungarian, Indones, Italian, Polish, Portuguese, Romanian, Russian, Slovak, Spanish, Swedish and Thai

ALL EDITIONS

Scribe for Theophilos single user license

NO *

NO

YES

ENGLISH BIBLES:

BASIC

STUDENT

SCHOLAR

NO *

YES

YES

King James Version with Strong's Numbers

NO

YES

YES

New American Standard Bible

NO

YES

YES

New American Standard Bible with Hebrew and Greek numbering system

NO

NO

YES

American Standard Version
Bible in Basic English
Darby's Version
Douay - Rheims
Geneva Bible (N.T.)
King James Version
Webster Bible 1833
Weymouth New Testament
World English Bible
Young's Literal Translation
Apocrypha

ALL EDITIONS

New Living Translation - Second Edition

LOCKED *

FOREIGN BIBLES:

BASIC

STUDENT

SCHOLAR

La Biblia de las Américas

NO *

NO

YES

Biblia Gda˝ska
Bulgarian Version 1938
Danish Bible 1931
Darby (French)
David Martin 1744
Dutch Statenvertaling 1637
╚eské deuterokanonické knihy
╚eský ekumenický p°eklad
Finnish Pyha Raamattu 1938
Károli Biblia
Kralická bible
La Diodati
La Nuova Diodati
La Riveduta-Luzzi
Latin Vulgate
Louis Segond 1910
Luther Bibel 1912
Norwegian 1930
Nová Bible Kralická
Nová smlouva (KMS)
Ostervald 1744
Reina Valera 1909
Russian Synodal Bible
Swedish Bible 1917
Versiunea Dumitru Cornilescu

Greek New Testament:

Scrivener's Greek NT 1894
Stephanus Textus Receptus
Westcott-Hort Greek NT


ALL EDITIONS

DICTIONARIES:

BASIC

STUDENT

SCHOLAR

Strong's Greek and Hebrew-Aramaic Dictionary (Revised)

NO *

YES

YES

NASB Hebrew-Aramaic and Greek Dictionaries

NO

NO

YES

Condensed Biblical Cyclopedia

Easton's Bible Dictionary

Harriet N. Cook: Scripture Alphabet of Animals

Hitchcock's Bible Names Dictionary

Nave's Topical Bible

Thompson's Chain Topics

Torrey's Topical Textbook

ALL EDITIONS

Complete Word Study Dictionary - Old Testament
Complete Word Study Dictionary - New Testament

LOCKED *

COMMENTARIES:

BASIC

STUDENT

SCHOLAR

English Standard Version Notes

NO *

YES

YES

LBLA references and notes

NO

NO

YES

NASB references and notes


NO

NO

YES

Geneva Bible Notes
Jamieson-Fausset-Brown's Bible Commentary
King James Translators' Notes
Matthew Henry's Concise Commentary
Matthew Henry's Whole Bible Commentary
Scofield Reference Notes (1917 Edition)
St. John Chrysostom: Homilies on Matthew
The Treasury of Scripture Knowledge
World English Bible Notes

ALL EDITIONS

Bible Knowledge Commentary
A. T. Robertson's Word Pictures in the New Testament

LOCKED *

WRITINGS:

BASIC

STUDENT

SCHOLAR

A Quick Guide to Theophilos 3
A Gospel Tract
A. W. Pink: The Antichrist
Alfred Edersheim: Life and Times of Jesus The Messiah
Alfred Edersheim: Sketches of Jewish Social Life
B. Pascal: Pensées
C. H. Spurgeon: All of Grace
C. H. Spurgeon: Daily Readings
C. I. Scofield: Rightly Dividing the Word of Truth
Chicago Statement on Biblical Inerrancy
Creeds of the Christian Faith
Daily Bible Readings
Early Church Fathers Vol. 1
Fox's Book of Martyrs
J. Calvin: Biblical Commentaries
John Bunyan: Some Sighs from Hell
John Flavel: On Keeping the Heart
Jonathan Edwards: Sinners in the Hands of an Angry God
Josephus: Against Apion
Josephus: Antiquities of the Jews
Josephus: Miscellaneous
Josephus: The Wars of the Jews
London Baptist Confession of 1644
Martin Luther: Enemies of The Cross of Christ
Martin Luther: The Large Catechism
St. Athanasius: On the Incarnation
St. Augustine: Confessions
St. Augustine: Handbook on Faith, Hope and Love
St. Augustine: On Christian Doctrine
St. Augustine: On The Holy Trinity
St. Augustine: The City of God
St. Thomas Aquinas: Summa Theologica
The Baptist Confession of Faith (1689), Spurgeon Revision
The Pilgrim's Progress
The Preacher's Library
The Trinity Is One God Not Three Gods
Thomas Kempis: Imitation of Christ
Weymouth: Introductions to NT Books

ALL EDITIONS
* Each CD contains locked versions of some of our commercial (i.e. non-free) titles. Titles marked "LOCKED" or "NO" can be unlocked for a small fee. To unlock a book on the CD, just purchase it here and receive the unlock code by email.
Read about system requirements for Theophilos

Author reserves the right to change any information including prices and availability of items mentioned on this page at any time and without prior notice.