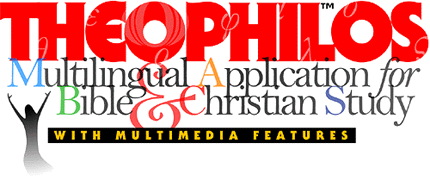 Bible Study Suite for Windows 95/98/ME/NT/2000/XP/Vista/Windows 7/8.x/10.x
with features you wouldn't expect to find in a free program
WHAT IS THEOPHILOS?
Theophilos is a fast and effective way to explore God's word. It comes packed with powerful features that you wouldn't expect to find in a free program. In fact, you are receiving a package of great value that can grow with your desire to study God's Word.
What will you get?
The free download of Theophilos comes complete with the following:
Full version of Theophilos Bible Software. No registration fees, no expiration reminder screens. This is not a so called "Demo" or "Light" version either.
Full text of King James (Authorized) version of the English Bible (including Old and New testaments) with Christ's words in red
Complete Matthew Henry's Concise Commentary on the whole Bible
Complete Easton's Bible Dictionary
Preview of multimedia Bible narration with pictures and sound
Greatest Bible Passages jumplist
Sample of a topic book to help you store your knowledge
Intro music - excerpt from "And I Saw As It Were... Konelrad" by Kerry Livgren from his album "One Of Several Possible Musiks". Copyright © 1989 Kerry Livgren Productions, Inc. Used by author's permission.
Where can you get it?
Download the free Theophilos package with the contents described above. Or purchase one of our CD-ROM collections. The CD-ROM versions give you more multimedia content, a selection of reference materials to match your needs, and a number of additional titles that can be unlocked for a reasonable fee. Either way, once you have the Theophilos program you can populate your library from the selection of Bibles and books in our Online Library. Most titles are free. Those for which we have to pay royalties to the author or publisher are available more reasonably here than you'll find from any other Bible software company.
What can you do with it?
Navigate the Bible
Do extensive research of the Bible
Compare Bible versions
Search and consult dictionaries
Search and view notes and commentaries
Search and study early Christian writings
Display and search HTML documents
Create your own dictionaries or topic books to store your knowledge and studies
Create your own notes and commentaries
Create Jumplists™ for special handling of verse lists and bookmarks
Search your own documents
Hear and watch multimedia Bible narrations or presentations of God's Word and create your own
Record audio notes and comments to every verse of the Bible
Attach sounds and pictures to Bible verses
Add your own pictures and sounds to menu for instant access
Use Theophilos in network environments
Copy or print everything through easy to use dialog
Change fonts in every window
Communicate with the program in several available languages or localize the program in your language
Customize program behavior and look with many options
If you are visually impaired and rely on screen reading software, experience the exceptional accessibility of Theophilos
If you are a publisher of textual and multimedia content, you can license Theophilos to publish and distribute your own CD products
Give it freely to your friends...